eContact! 17.4 — Analogue and Modular Synthesis: Resurgence and evolution. Call for Contributions. Deadline: 1 December 2015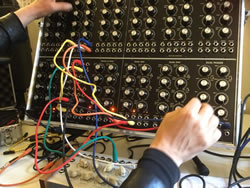 The Canadian Electroacoustic Community (CEC) is now accepting submissions for an upcoming issue ofeContact!, the online journal for electroacoustics published four times a year by the CEC. We are pleased to have Richard Scott as Guest Editor for eContact! 17.4.
An idea emerging from Manchester's 2014 Sines&Squares Festival, initiated by our Guest Editor, forms the core of the topics explored in this issue, with focus including modular synthesis in live performance, improvisation and fixed media, gender and synthesis, programming, patching and methodology.
Topics
We welcome contributions on themes that fall within the following list of categories, but also invite potential contributors to propose their own categories and ideas!
Topics relating to modular synthesizer history;
Instrument, module and synthesizer design;
Overlapping communities of users, designers and manufacturers, etc.
Relations between modular practices and the DIY community;
Characteristics of the resurgence of analogue and modular practices;
Modular synthesis and live performance;
Modular synthesis and improvisation;
Women, gender and modular scenes and practices;
Towards/against fixed media: Integration and co-existence? Conflict and avoidance?
Studio reports or commentaries on individual work(s);
Artist galleries.
Submission Process
Deadline: 1 December 2015
Publication: 31 December 2015
Contributors must follow the Submission Guidelines for eContact! and prepare their work for consideration in the journal using the article template available at the top of the Guidelines page.
New and/or unpublished materials are preferred but reprints of previously published materials are also possible (eContact! will credit and link to original publications).
To state your interest in contributing, or for further information, contact Guest Editor Richard Scott or Coordinating Editor jef chippewa.
Media
The inclusion of audio and video support documentation, photos, technical diagrammes and sketches is strongly encouraged. Audio and video examples should be submitted in the highest quality possible.
Copyright
The author is responsible for securing all permissions and clearing any copyrights related to the submission, including, but not limited to, texts, audio and video recordings and images (figures, photographs, etc.).
Guest Editor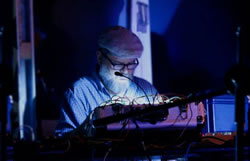 Richard Scott is a modular synthesizer player, free improviser and composer. He was an artistic resident at STEIM for several years. He has had many electroacoustic, performance and audio-visual works presented at conferences and festivals such as ICMC, IFIMPAC, BEAM and MANTIS. In 2014, he initiated and co-curated the Sines&Squares festival of analogue and modular synthesis held at Manchester University and Islington Mill. Currently he lives in Berlin, where he is co-curator of two important improvised and electronic concert series: AUXXX Berlin and Basic Electricity. In March 2015, he was invited to be a guest artist performing with Sonology Ensemble in The Hague directed by Richard Barrett.
http://richard-scott.net
Categoría: Canada, Convocatorias, Portada Noticias